With a strong leadership philosophy centred around its people, CCSG Group is going from strength to strength. Founded in 2005, CCSG Group, began as a specialist Commercial and Consumer Debt Recovery company. Quickly recognising a gap in the market, founder, and CEO Daniel Taylor, transformed CCSG into a full-service debt recovery agency, incorporating contingent debt collections, legal services, investigations, and debt purchase. CCSG Group supports large organisations with the recovery of their portfolio debt, supported by their inhouse Law Firm CCSG Legal.
We caught up with CEO, Daniel Taylor to hear more about their contact centre operations, workforce strategies, leadership approach and what he sees as the company's biggest challenge for 2023.
TELL US ABOUT YOUR TEAM AND YOUR FOCUS WHEN RECRUITING NEW EMPLOYEES AT CCSG GROUP.
When I started the company, my focus was on building an organisation where our employees were specialists, trained experts who would help us achieve the strategic outcomes we were aiming for.
Our team is educated, dynamic and motivated. We believe the key to our success is our people, so we employ staff we want to work with, people who we are proud to represent our clients.
CAN YOU DESCRIBE THE LEADERSHIP STYLE AND MANAGEMENT APPROACH USED IN THE CONTACT CENTRE?
We have adopted a collaborative approach in the management and leadership within the contact centre. We have seen a positive change in the engagement between agents and management with this style and it has helped us improve our services by empowering all staff to drive change and innovation in the workplace.
HOW ARE EMPLOYEE PERFORMANCE METRICS TRACKED AND EVALUATED IN THE CONTACT CENTRE?
Managing employee performance is essential for us to deliver results when servicing our clients' portfolios. Performance metrics range from outbound call volumes, inbound call time handling, quality
and compliance measures, emotional engagement with customers, portfolio recovery and NPS on calls. We use these performance metrics to build a holistic view of performance, not using any one metric in isolation.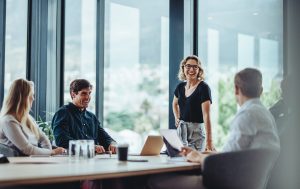 CAN YOU PROVIDE AN OVERVIEW OF THE CURRENT ATTRITION RATES AMONG AGENTS IN THE CENTRE?
Like most contact centres, we do face challenges when it comes to attraction and retention in the current market. Post July 2022 we experienced some challenges with increased attrition, with the main driver being staff shifting for higher salaries. Our attrition rate was sitting at circa 15%.
DO YOU SEE A LOT OF INTERNAL PROMOTION WITH AGENTS FROM THE CONTACT CENTRE MOVING INTO OTHER ROLES WITHIN THE ORGANISATION?
We have been quite fortunate to have been able to promote internally within our organisation. We have also looked externally when recruiting for some team leader positions to bring new thoughts, techniques, and skills to the company. This has been fantastic for the continued growth of our organisation.
WHAT TECHNOLOGY SOLUTIONS ARE CURRENTLY IN PLACE TO SUPPORT THE CONTACT CENTRE'S OPERATIONS?
Our base Collections CRM supports a lot of the work we do. We utilise cloud-based dialer and call recording solutions coupled with call analytic software. The call analytic software that we use was sourced from America and has been fantastic in supporting our organisation, monitoring both agent and customer emotional scores. In our industry it is extremely important to support customers in circumstances where they raise dissatisfaction with our engagement or the services of our clients. The call analytic software allows us to monitor and report complaints and other key words in real time.
CAN YOU DISCUSS ANY PLANS FOR ADOPTING NEW TECHNOLOGIES OR MODERNISING THE CURRENT TECH STACK?
We are looking at gamification and deploying this in our contact centre. This will bring another level of agent engagement for us. Ordinarily, organisations do not have an opportunity to monitor and reward staff for varying degrees of performance. Gamification will give us the ability to have a broader performance based incentive and reward scheme for our staff.
HOW RECENTLY HAVE YOU ONBOARDED NEW STAFF?
We did a large recruitment drive in December 2022 which culminated in a great influx of staff joining us in January 2023. This has been great to get some fresh faces into the organisation and to continue to be ahead of the curve in supporting our clients.
ANY PLANS TO EXPAND IN THE FUTURE?
In 2022 we purchased a new office in Newcastle, NSW and have capacity to grow our staff numbers quite significantly. We are excited about the opportunity to tap into the resourcing pool of Newcastle and the broader Hunter region. It has been fantastic to bring on new staff in this location and to see them grow with and add to the CCSG culture.
IF YOU LOOKED AT CHALLENGES THAT YOU WERE FACING IN 21 VS NOW -WHAT WOULD BE THE BIGGEST CHANGE?
The biggest challenge that we see is the employment market.
Being able to recruit staff at a sensible remuneration is going to be challenging. That being said, we have seen a lot of quality staff joining us taking a holistic and long term approach to their work and remuneration, joining us with a view of career growth, capability development and strong technical experience. Given our focus on development, continuous learning opportunities to hone skills and adopt best practice approaches is a key element of our employee value proposition.
HOW DOES CCSG WORK TO ENSURE ITS EMPLOYEES ARE MOTIVATED, ENGAGED AND SUPPORTED IN THEIR ROLES?
We are quite fortunate that we get to support clients in various industries. This allows us to provide movement across portfolios for our agents and provide them with continued mental stimulation. It is quite challenging to motivate staff when there are mundane or repetitive tasks.
IF YOU COULD CHANGE ONE THING ABOUT THE PERCEPTION OF CONTACT CENTRES, WHAT WOULD IT BE?
I would change the perception of relevance and value in the face of digital technologies. Contact centres that are done well provide a fantastic customer journey and increase loyalty and appreciation for services being offered. Non-human automated channels enable organisations to reduce FTE and attempt to increase customer satisfaction. There is still a direct need for human interaction and support to customers. Contact centres are the lifeblood of customer engagement.
WHAT IS THE VISION FOR THE FUTURE OF THE CONTACT CENTRE AT CCSG GROUP, AND HOW DOES IT ALIGN WITH THE GOALS OF THE ORGANISATION AS A WHOLE?
Our vision is to continue to invest in people and grow a customer centric contact centre. This will be supported by non-human channels; however, the focus will be to drive customers to agents in a quicker and more efficient way. Our goal as an organisation is to continue to provide a high level of human customer service supported by tech to those who do not want to engage directly with agents.